Monsterra, a multichain P2E game on BNB, Avalanche and OKX with free to play & earn model, announces the launch of the World of Adventures festival with $2500 rewards for winners.
Monsterra is a revolutionary multi-chain NFT game with a free play & earn mechanism on BNB, Avalanche, and OKX networks. The game set foot in a fictional world and revolves around farming, property building, and battling other lands with the magical creatures named Mongen. The revolutionary design of Monstera is a combination of free-to-play and free-to-earn models, which allows millions of gaming enthusiasts to enjoy fun and have a high-profit stream with no initial investment.
The game achieved 100,000++ app downloads within just one month of its launch. Its popularity is skyrocketing, evidenced by its 400,000+ players, 25,000 daily active users, and 7,000 concurrent peak users, making it one of the most sought-after games globally. With a feedback rating of 99%, Monsterra has captivated gamers worldwide with its gameplay and features. Monsterra is available on iOS, Android, and the web, providing seamless gaming experiences across multiple platforms.
The launch of MonsWallet, Monsterra's non-custodial wallet, has further amplified its ecosystem. With MonsWallet, players can securely store, send, receive tokens, visualize NFTs and FTs, swap tokens, buy cryptocurrency with fiat, and earn passive income through staking MSTR and MAG tokens. By expanding the listing, Monsterra aims to enhance awareness of the game and MSTR token, offering users and holders a wide range of activities to maximize the value and utilities provided within its comprehensive 9-component ecosystem.
Every day during the festival, thought-provoking questions related to Monsterra will be posted in the community. Participants are encouraged to submit their answers, showcasing their knowledge and understanding of the game.
Reward is 500 MSTR/ 5 winners. The top five responses, judged for correctness and creativity, will be awarded 500 MSTR each, making it an enticing challenge for all participants.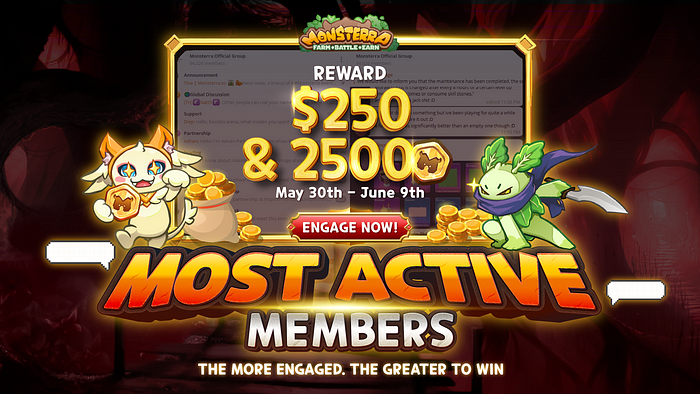 Members who participate in the daily quest for at least 7 consecutive days will be eligible for the Most Active Members prize. The 10 most active members, based on factors such as the number of messages, characters per message, and active time, will share the prize pool, ensuring recognition for their commitment and engagement.
The main criteria for active members to join the top ranking will be based on 3 following factors, counting the quantities from Top to Bottom based on Number of messages, Number of characters/messages or Active time: from 7 days or more & so more
Reward is $250 + 2500 MSTR for 10 top active members.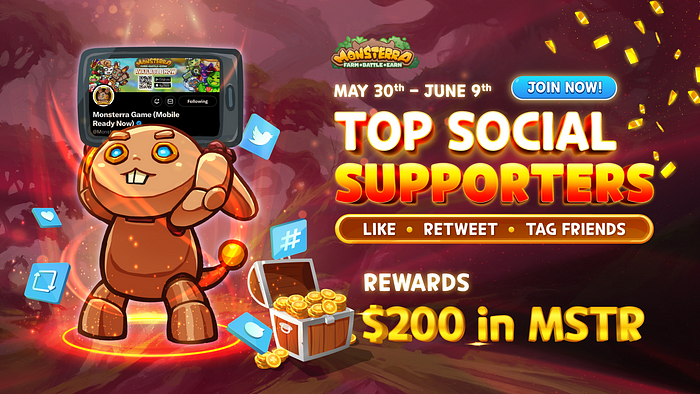 In this event, participants become the social advocates of the Monsterra Festival. Monsterra team will pin the announcement tweet about the festival for ten days and players are required to actively engage with the pinned tweets by liking, retweeting, and tagging three friends in the comment section.
Reward is $200 in MSTR/ 10 lucky winners.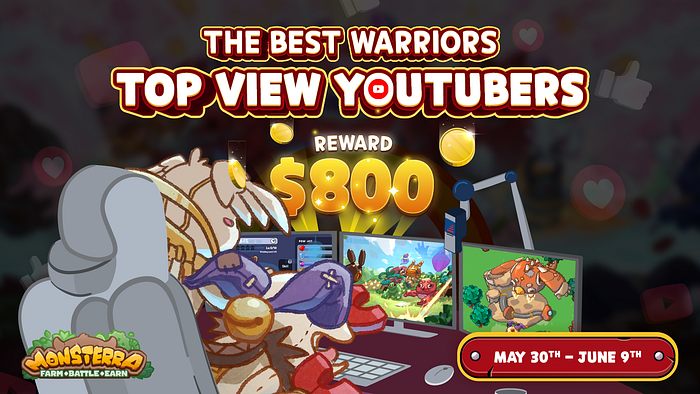 In this competition, participants are encouraged to create and submit videos about their Monsterra experiences during the festival . The videos with the most views on YouTube channels at the end of the event will be eligible for exciting prizes. The winners will be determined based on the number of views recorded two days after the event concludes.
Reward: The total reward of $800 will be shared with our 3 outstanding winners recognizing exceptional content creation and viewership.
$500 for the first place (minimum 5000 views)
$200 for the second place (minimum 2000 views)
$100 for the third place (minimum 1000 views)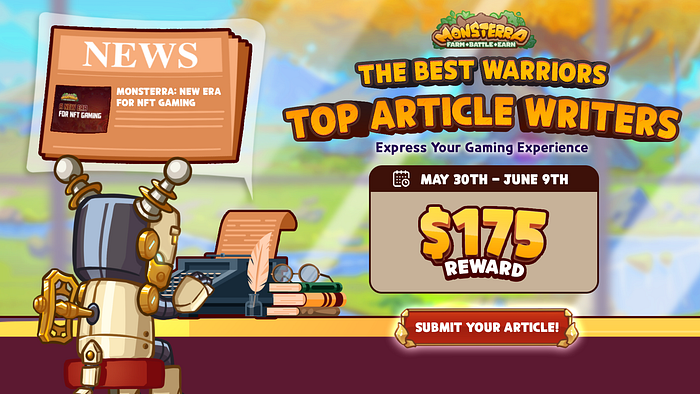 Participants can submit articles about their best in-game experiences. The articles will be reviewed manually, emphasizing quality and creativity. The top three winners will be rewarded based on the uniqueness and engaging nature of their articles.
Reward is $175 of total rewards is so ready to be granted to our dedicated players with impressive gaming expression. Our team will play an important role in reviewing, checking, and selecting the best in the final.
$100 for the first place
$50 for the second place
$25 for the third place
Participants are reminded to include their email, in-game ID, and relevant hashtags for copyright verification purposes.
The $2500 USDT in Monsterra Festival promises an exhilarating journey filled with adventure, rewards, and community engagement. Whether it's participating in the Daily Quest, showcasing consistency as a Top Active Questers, becoming a Top Social Supporter, or unleashing creativity as one of the Best Warriors, there are ample opportunities for every Monsterra player and community member to shine.