Silvergate Capital, the big dog central lender to the crypto industry, just dropped a bombshell. They're winding down operations and liquidating their bank. Ouch. Their stock took a nasty 36% dip in after-hours trading. Here's what they said:
"In light of recent industry and regulatory developments, Silvergate believes that an orderly wind down of Bank operations and a voluntary liquidation of the Bank is the best path forward."
At least all deposits will be fully repaid, according to a liquidation plan they shared on Wednesday. But they didn't say how they plan to resolve claims against their biz. Tough break, Silvergate.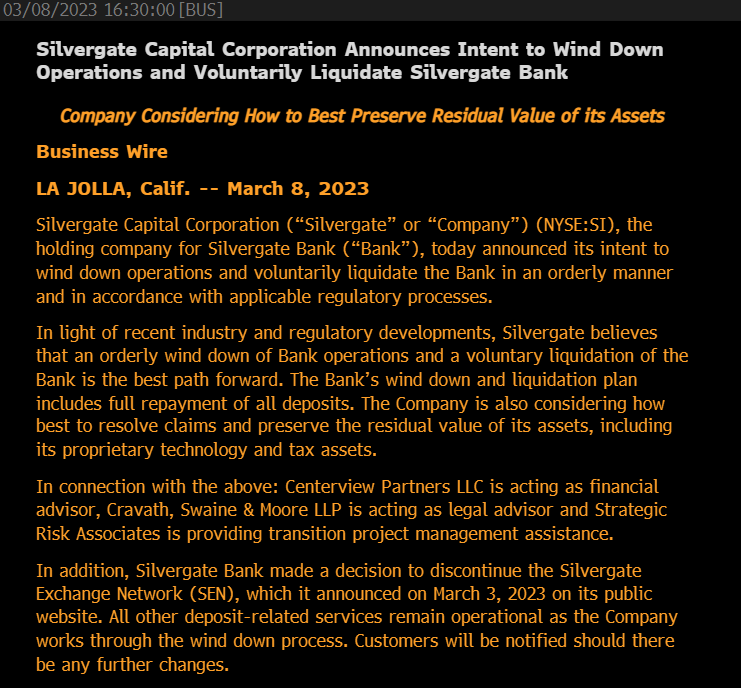 On March 2, the biggest crypto bank in the US, Silvergate, announced a delay in the publication of its annual financial report. Then, they went and dropped the bombshell about their possible insolvency due to a sharp decrease in capitalization. No surprise, big bank clients like Coinbase, Galaxy Digital, Bitstamp, Cboe Digital, Paxos and Circle started backing away. That put more pressure on Silvergate's capitalization. In just one day, the price of their shares fell by 57% on the NYSE, and on the LSE, it was 54%. It's rough times for Silvergate, the second-largest crypto asset bank in the US.
Before this mess, Silvergate was a real player in the crypto game, bridging the gap between cryptocurrencies and fiat for institutional and retail investors in the country. They were the go-to for 90% of crypto companies' funds, so when the crypto market hit some economic turbulence and US regulators got fussy, their lack of diversification and small capitalization made them vulnerable.
However, many cryptocurrency users do not agree with the position of US regulators, who consider cryptocurrencies to be the reason for the current financial crisis of Silvergate. They point out that the bank held too many demand securities.
Some have openly accused US regulators of instigating Silvergate by putting pressure on the Federal Home Loan Bank of San Francisco (FHLB). Silvergate took out a loan from the FHLB to stave off financial insolvency after a tough 2022. In 2023, the FHLB suddenly demanded early repayment of the loan.
From 2014 to 2017, Silvergate made a name for itself in the rapidly growing cryptocurrency market. They even had Barry Silbert's DCG as their first crypto client. By 2017, they had 250 clients and $1.9 billion in assets. Then, in 2019, they went public and issued shares under the ticker SI. From November 2019 to November 2021, their shares rose by a crazy 1500% during the crypto market's boom.
Silvergate's flagship product was the Silvergate Exchange Network (SEN) payment system, which allowed bank customers to make transfers 24/7. In 2021, the volume of transactions in SEN reached a whopping $787 billion. That's a lot of crypto dough.
But in 2022, several big bank clients went bankrupt at once. FTX and Luna were just a couple of their customers that went under, causing a loss of users' deposits or the withdrawal of funds to cover operating expenses during bankruptcy proceedings. That's why, by the beginning of 2023, the bank had lost a whopping $8 billion in deposits.
The collapse of FTX didn't just hurt Silvergate's deposits. It also put the bank in the regulators' crosshairs. In December 2022, it was reported that Silvergate facilitated the transfer of funds from exchange clients to the Alameda fund. That caused Senators Elizabeth Warren, Roger Marshall, and John F. Kennedy to call for an explanation, which led to a decrease in confidence and investigations by the SEC and law enforcement.
So yeah, that's the lowdown on Silvergate's downfall. It's a tough time for the bank and the crypto industry as a whole. We'll have to wait and see what happens next.