Any market might look overwhelming for a newbie. This is especially true for the crypto market, with its highly specific nature, thousands of obscure coins, the lack of clear and reliable information, plus a noisy and often toxic community that can also be difficult to navigate. There's too much noise around – tokens, projects, influencers, trading gurus, signal groups, bots, scums, and so on – and no clear signal. So here I want to show you a way to be fairly profitable and time-effective from the very beginning of your journey through this crypto rabbit hole – with copy trading.
It might be better than trading bots because you don't have to deal with technical details or specify a trading strategy yourself. It might be better than some shady signal groups because you have verifiable traders' statistics before to start following them, pay only for the trades taken, and may cancel anytime. Actually, it might be better than any other possibilities because it saves time for your own research and experimentation (or for real life for all the normies) while generating some profits right from the start.
What is Copy Trading
Copy trading is a trading scheme that involves systematic replication of the trades of more experienced traders. Most platforms today allow automating this process. So, the copytrading can be referred to as a source of passive income.
Platforms typically offer a rating system and statistics to help users select traders. One can choose a suitable option by reviewing ratings from other users, profitability, risk profiles, strategies, and a backlog of past trades of public traders.
Pros and Cons of Copy Trading
Pros:
Time-saving: There's no need to personally analyze the market as the traders copying makes the trading decisions on their behalf.
Customization and automation: One can specify a sum and leverage for each trader followed and forget about it – it's like a bot, but much easier (no need to determine its trading strategy), plus it's a real experienced trader, from whom one can learn a lot (see below).
Opportunity to earn without education: Copytrading doesn't require special knowledge or skills, making it accessible to beginners.
Learning opportunity: One can learn trading strategies and analysis techniques by observing and replicating the trades of experienced market participants.
Transparency and rating system: Open rating system and statistics, based on which one can choose a suitable trader to follow.
Cons:
Trader fees: Followers pay a commission for trades they replicate, which can vary depending on the platform. On BingX, it is 8% of profit, one of the most 'follower-friendly' rates on the market.
Risk of losing money, as in literally any market operation. Even renowned traders can have losses, so there is no 100% guarantee of successful trades in copytrading.
Why BingX
First, BingX specializes in copy trading, calling it a key element of the BingX system. They have gone above and beyond to ensure the platform provides the best service in that direction. This implies extensive statistics for selecting a trader, one of the most advanced copytrading tools, and lower fees for trades copied.
Also, it's not the largest crypto exchange yet, so they're interested in actively attracting new users. What does this mean for us all? That's right: better service conditions, lower fees, promo campaigns, gifts, and user rewards, like compensation losses from copytrading. On top of that, the platform has been operating for five years already, safely and securely, offers a wide range of markets – spot and derivatives – and has a clean and clear interface, not difficult to navigate, even for a newbie.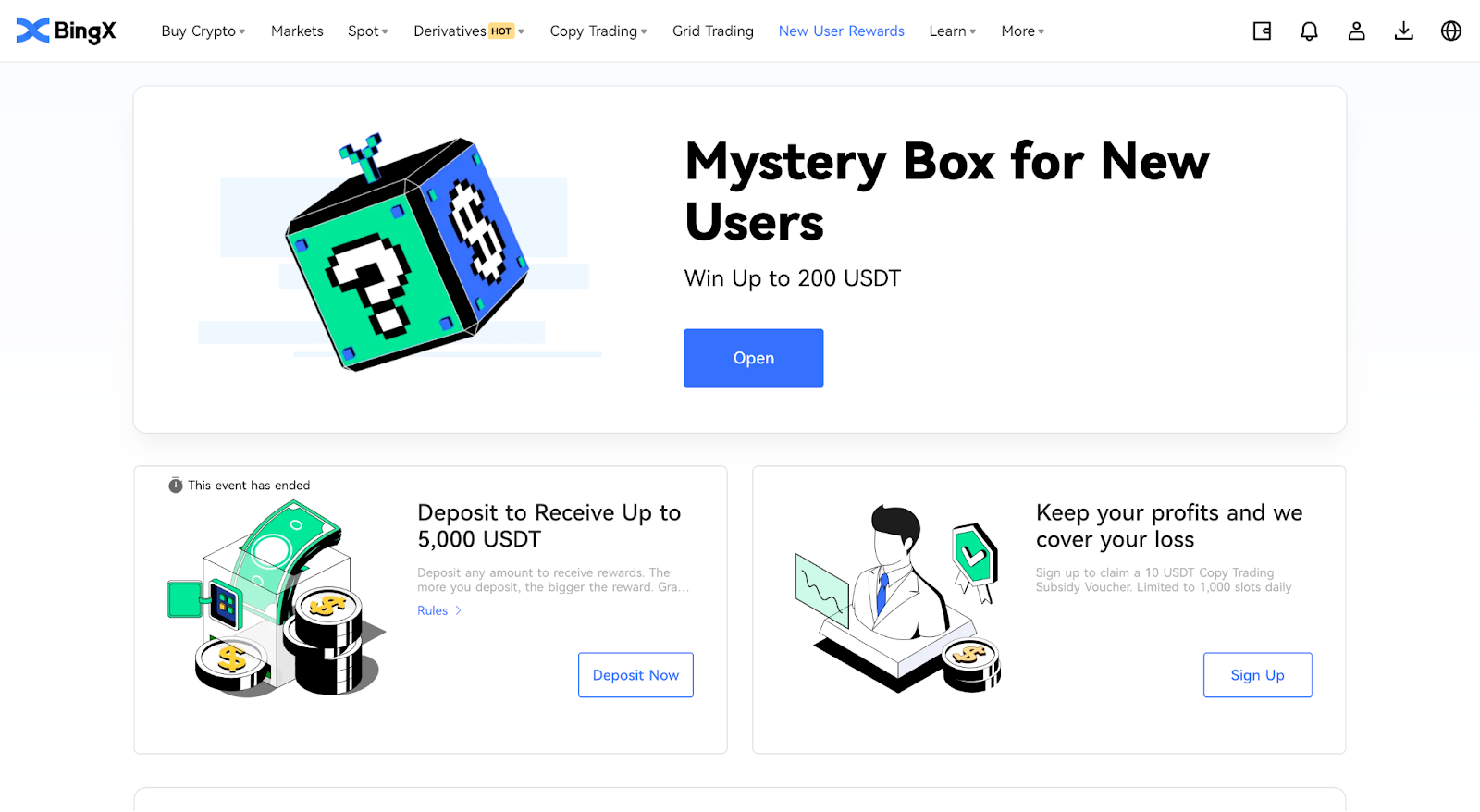 How to Copy Trade on BingX
After registering and identity verification, the user can go to the Copy Trading tab.
And it should be noted right away that there are several types of copytrading, each with its unique features and limitations: copytrading by positions, copytrading with a fixed margin, and spot trading. The choice of which type to use depends on the stock trading account that the trader uses. The differences between them are described in detail in the FAQ.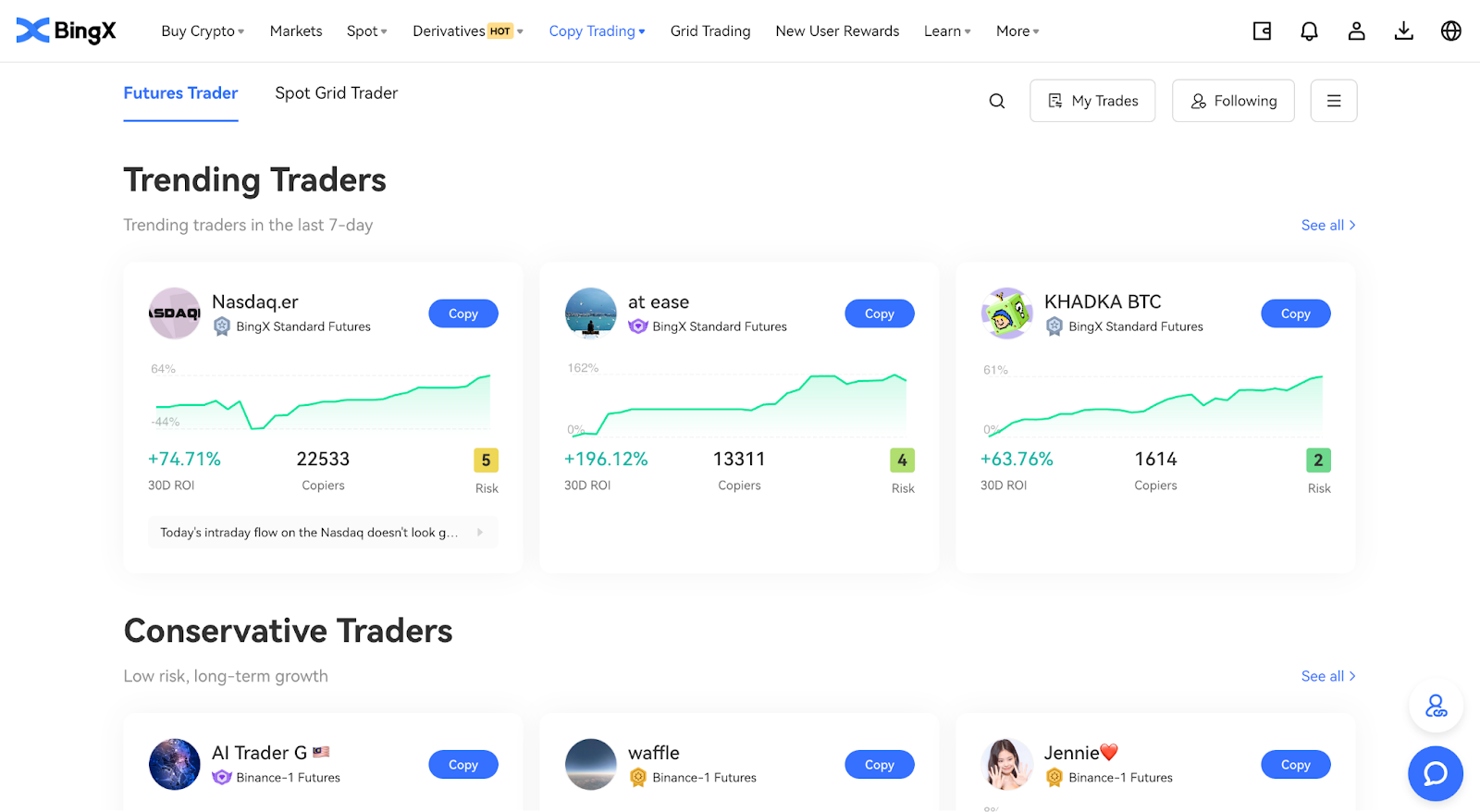 Here we can see a list of traders. You can choose between "Trending Trader" or "Conservative Trader" based on their past performance, as recommended by the system. Click on their avatar to view their trading data or feed. If you need help with the meaning of a particular indicator, you can hover the cursor on it (or click where applicable) to see its definition and data.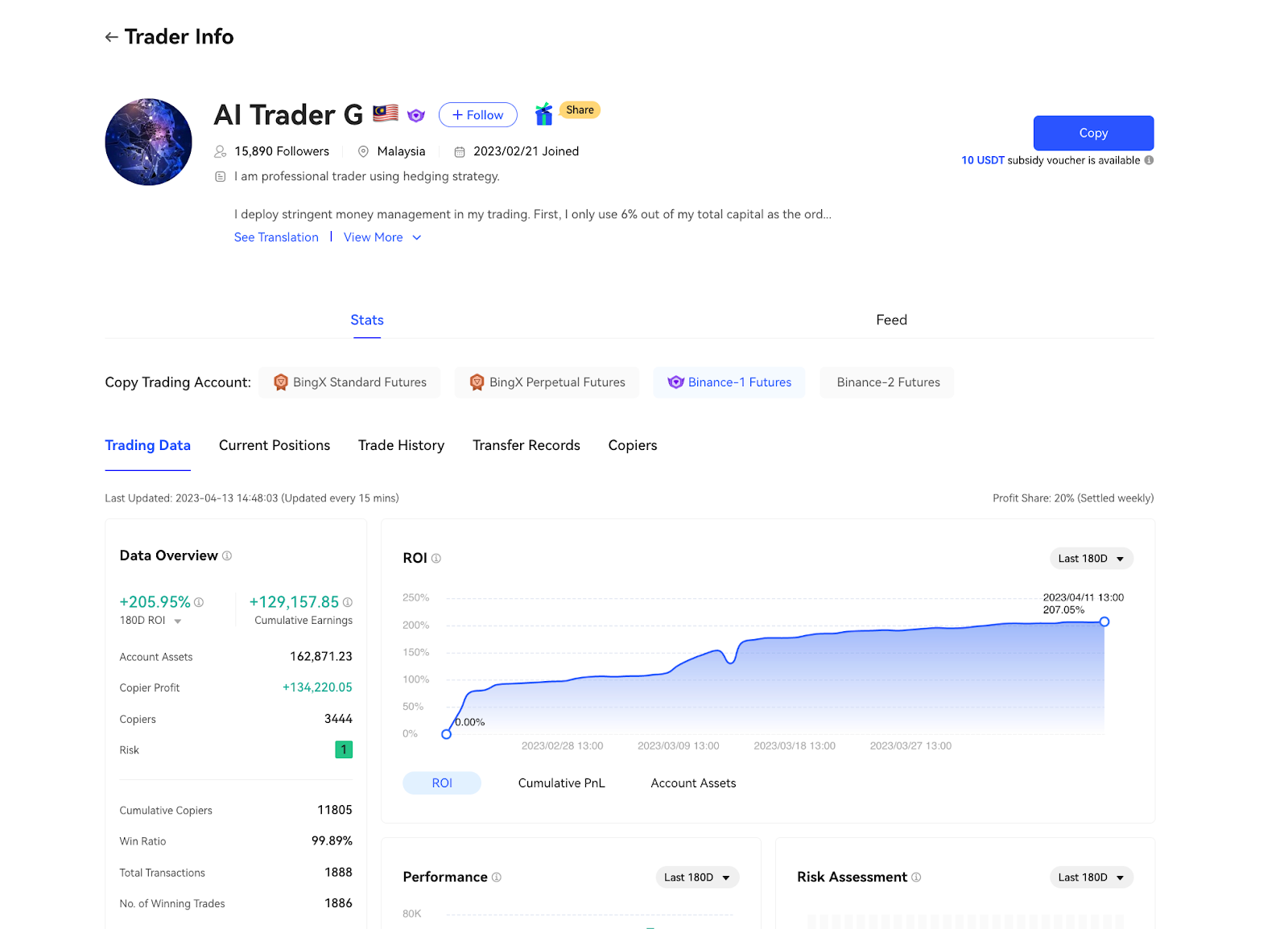 After choosing a trader, click "copy." A window with copy settings will appear, where you can specify the type of copytrading. Once you have selected the settings (it helps to see relevant tutorials where needed), confirm the copying process.
Now click on "My Trades" to check your copy trading data. The overview section shows "Today's Earnings" and "Total Revenue." Click on "Details" to view more data. The current section displays copy trading orders that are still open. The copying history section includes completed copy trading orders.
You have the option to stop copying a trader at any time. To do this, go to "My Trades" –> "Current" and select the trader you want to stop copying. When you click "Stop Copying," you will no longer copy the trader's orders, and the trader will be removed from your copying list. Any existing copied orders will be closed as the trader closes their orders. You can also click on "Edit" to modify your "Copy Settings."
Subsidying Losses on BingX
Now you probably have a reasonable question: "What if I suffered a loss from a copied trade?"
BingX has foreseen that situation too. And to assist users in overcoming potential challenges, BingX has implemented a copy trading subsidy voucher. This voucher serves as insurance for users' copied orders, providing them with a corresponding amount during settlement if they experience losses. It aims to help users offset any costs associated with copy trading on the platform.

How to use the Copy Trading Subsidy Voucher? Check "My Rewards" to see if you have a voucher.
Go to the "Copy Settings" page and click "Subsidy Voucher." You can set up the voucher to be used in the "Copy Settings" section, which can be accessed via "Copy Trading" on the home page or "My Rewards." Click "Copy Now" to start copying the trader's orders. The voucher will be effective immediately upon successful coping.
If a loss occurs from the copied order, you will receive the corresponding amount, capped to the value of the subsidy voucher, after the voucher settlement.
Note: The voucher can help mitigate some trading risks but has limitations. Each voucher can only be used with the same trader, so choose your trader carefully. Before using the voucher, we highly recommend reviewing the BingX guide and familiarizing yourself with all the terms of use.
To Conclude
BingX is a convenient and newbie-friendly trading platform with exciting features, a wide range of markets available, and unique implementation copytrading functionality. With copy trading, you can easily replicate the transactions of experienced traders and learn from them while earning profits without the hassle of in-depth trading knowledge.
Follow this link, look up, register, and enjoy the benefits of the most advanced copy trading platform!